---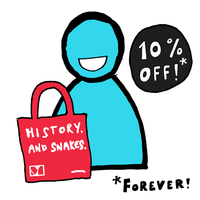 Jettison the need to maintain a monthly or annual membership setup for the ease and glamour of being one of our lifetime members!
We'd like to say this will assure your invitation to a number of exclusive international events, but we're not quite sure about that yet. What it will ensure, is that you will always be a friend to Museum in a Box, and you will not be subjected to any future annoying "time to renew your membership!" emails.
We'd like to recognise your superb taste and support by:
offering you a permanent 10% discount on any future purchases,
noting you're a special lifetime member on the website, and
sending you a complimentary HISTORY. AND SNAKES. tote bag which you can show off to all your friends.
Conditions
Lifetime memberships cannot be bought in isolation. They must be part of an order that contains a kit.
Lifetime memberships do not stack. The maximum lifetime discount for any organisation is 10%. 
Lifetime memberships are not transferable between accounts.

You can upgrade an existing account at any time - just let us know your "Heart" username to attach it to.
Please note:
This Add On product won't do anything without at least one user account that you'd get when you buy a Make Your Own kit, so please don't buy one unless you are also buying a kit. We're offering a Lifetime Membership for sale to folks with Make Your Own kits that don't want to bother with monthly or annual user account management.
If you don't have a lifetime membership, it's possible that your membership can expire. If this happens, your account will become read-only, meaning you can't add or edit your Collections.